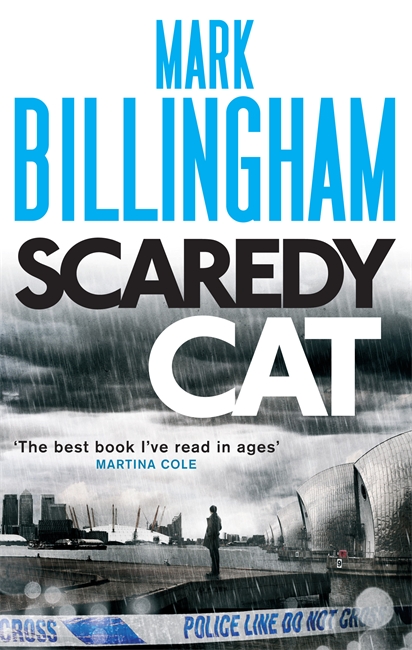 Billingham confirms his promise, and delivers an assured and shocking thriller.
The Guardian
A brisk, racy read. We shall see a lot more of Tom Thorne.
The Times
An absorbing mystery.
Sunday Telegraph
Taut, gripping and stylish. Billingham delivers a chilling exploration of power and submission. Unputdownable.
Time Out
Scaredy Cat will be, and deserves to be, a bestseller as it stands head and shoulders above the competition.
Birmingham Post
An incredibly dark, brilliant thriller.
London Evening Standard
Billingham manipulates his readers as relentlessly as the murderer manipulates both his surrogate in crime, and the police .
The Scotsman
Billingham has a chilling talent.Right up there with this country's dark masters such as Ian Rankin and Val McDermid.
Daily Mirror
Black and bloodcurdling,
Bizarre
Genuine edge-of-the-seat stuff. Billingham keeps the reader guessing as to the principal killer's true identity right to the very end. Television and film adaptations must surely follow.
What's On In London
Like the best of British and American crime writing rolled up together and delivered with the kind of punch you don't see coming.
Lee Child
A plethora of pleasures in these pages
USA Today
Heady psychological suspense runs through the hip, flawlessly plotted Scaredy Cat. Mark Billingham again creates a contemporary twilight zone that feels all too real.
Fort Lauderdale Sun-Sentinel
Readers who like a powerful police procedural with strong characters, will want to read this superb tale. This is a winner.
Midwest Book Review
With last year's auspicious thriller debut (Sleepyhead), Billingham has given himself a tough act to follow. But the return of London detective Tom Thorne is most welcome, and this novel is every bit as intense and creepy as the first.
Library Journal
Scaredy Cat is an incredibly satisfying and engaging thriller.
Karin Slaughter – author of Kisscut.
Mr. Billingham has created a story as frightening as it is riveting. Pushing the English police procedural to another level.
Dallas Morning News
One of the best books of the year. Don't miss it.
Toronto Globe and Mail
These are frightening and starkly graphic thrillers that you won't easily forget. Grade A.
Rocky Mountain News