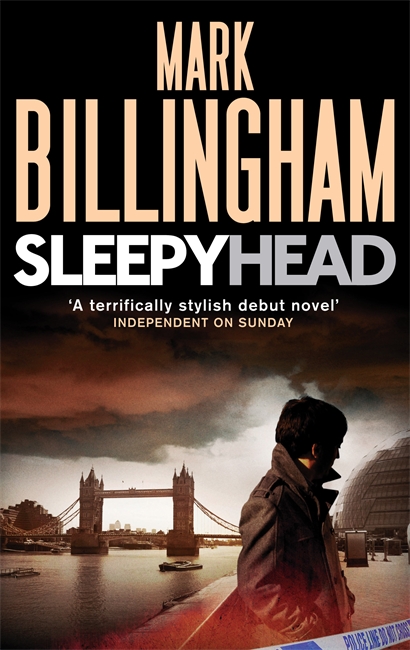 An assured chiller. Disturbing and thrilling… with memorable characters and bundles of atmosphere. Britain now has its own forensic crime maestro.
The Guardian
A terrifically stylish debut novel. It can only be a matter of time before Tom Thorne returns.
The Independent On Sunday
Compelling.
The Daily Telegraph
There's not much you can fault Sleepyhead on. Disturbingly original.
Time Out
Sleepyhead is one of the finest first-novels I've read in a long while. Mark Billingham has brought a rare and welcome blend of humanity, dimension, and excitement to the genre and earned an instant seat at the top table of crime novelists. An exceptional debut.
George P. Pelecanos, author of "The Night Gardener"
A brilliantly dark and different new crime novel.
Manchester Evening News
After reading only the first few pages of Sleepyhead I had my first nightmare in years. I woke up in the early hours shaking and sweating…
Birmingham Post
Sleepyhead is the kind of novel that has you checking the locks and shutting the windows.
Ireland On Sunday
With Sleepyhead, Billingham leaps to the upper echelons of British crime fiction in a single bound.
John Harvey, author of the Resnick series
Don't make any plans for the weekend when you buy it – because you won't be leaving the house until its finished
FHM
Ideal for those who like big goosebumps to go with their glowing tans.
Elle
A compelling, brilliantly written thriller by a name to watch. It's been a long time since London noir was this good.
Bizarre
Who would have thought a stand-up comedian could write a British police procedural as good as those produced by crime queens Elizabeth George and Ruth Rendell?
USA Today
Billingham excels in characterisation.
Publishers Weekly
Brilliantly conceived and superbly plotted, with complex characters, deft twists, and an ending that's both shocking and oppressive. A must-read.
Booklist (Starred review)
Billingham's flawless plotting and the steadily increasing sense of fear combine to make this one of the best debut novels of the year.Going from 0 to 60 in record time, his next book is on my must read list.
The Rocky Mountain News : Grade: A.
A new twist to the twisted mind of a psychopath – an exciting debut novel.
Baltimore Sun
Billingham's turn as a novelist, might be his most sucessful career move.
Pittsburg Tribune-Review
A sensational debut novel.
Toronto Globe & Mail