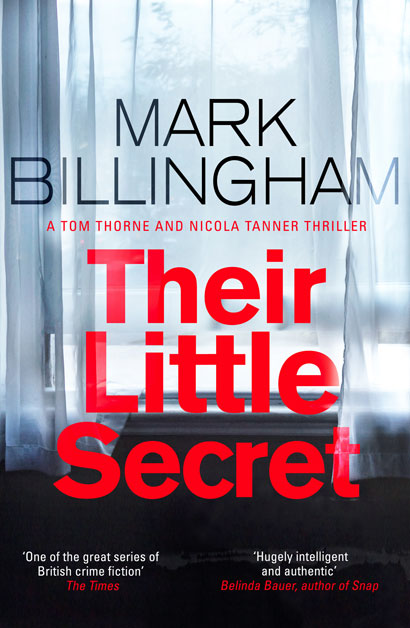 This book is so cleverly constructed that Billingham could wrong-foot fewer people if he spilt a bucketful of ball bearings on to an ice rink. Another winner from Mr B.
The Guardian
I guarantee you won't see the ending coming. Thorne is one of the most interesting detectives in contemporary crime fiction.
Daily Express
An object lesson in how to take an established series into shockingly deep waters without losing the thread that keeps the franchise going. The detection that normally drives each entry is the least of this one's dark appeal.
Kirkus Reviews
Beautifully constructed and written, it pulses with the humanity that is Billingham's — and Thorne's — trademark.
The Daily Mail
Their Little Secret is a masterpiece of misdirection, suspense and contains as convincing a portrayal of insanity as I have read in many a long year. Tom Thorne is the perfect hero for our troubled times. Emotionally and professionally, he ploughs a lonely furrow, but his honesty and – sometimes clumsy – care for those he loves are deeply moving.
Fully Booked
The London master of procedural noir. Masterful, and an impeccable lesson in crime writing.
Crime Time
Mark Billingham is a damn fine storyteller whose thrilling books always satisfy. With a propulsive plot that is as gripping as it is unnerving, you will not be able to put this book down. Their Little Secret is an unforgettable ride.
Karin Slaughter
Hugely intelligent and authentic
Belinda Bauer, author of Snap
With lots of surprises and some very crisp, staccato storytelling, it's impossible to put down THEIR LITTLE SECRET.
Book Page US.
Their Little Secret is a cracking read and features one of the most twisted relationships I've ever read. I couldn't put it down.
Shari Lapena
Billingham scores even higher in his continuing brilliance in portraying Thorne the person.
The Times
Much more interesting than a straightforward procedural
Literary Review
A fantastic thriller, combining a gripping plot and lead characters of remarkable depth.
Booklist Starred Review
Outstanding. The twisted plot unfolds gradually, with a maximum of suspense. Billingham never strains credulity in this thoughtful page-turner.
Publishers Weekly. Starred Review.
Amazing…riveting. The master storyteller is on stunning form.
Lancashire Post