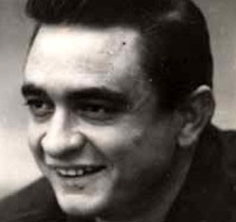 Johnny Cash
Click to hear Folsom Prison Blues.
Not much needs to be said about The Man In Black. Whether he is singing about God or murder, that dark baritone, which Thorne once described as being like the "long slow tumble towards Hell" and that distinctive boom-chicka-boom beat, make you feel as though he knows just what he's talking about.
Hank Williams
Click to hear I'll Never Get Out of this World Alive.
So many great songs, and dead at 29. He also recorded a series of songs as Luke The Drifter; bleak, sombre and desperately uncommercial. This alter-ego was the good man, the preacher; everything the hard-drinking and womanising Williams believed that he was not. I've sat on any number of panels at crime-writing convention where one writer after another did their best to define "noir". For me, the title of this song pretty much sums it up.
Emmylou Harris
Click to hear Boulder To Birmingham.
Although Emmylou Harris did not begin extensively recording her own songs until much later, this stunningly beautiful song shows what a supremely gifted songwriter she always was. Written as her way of coping with the tragically early death of her muse Gram Parsons, this is one that's up there on the "songs to be played at my funeral" list. Unless of course I'm crushed by a falling boulder while in Birmingham, in which case it might not be appropriate.
George Jones
Click to hear He Stopped Loving Her Today.
This song by Bobby Braddock and Curly Putnam was the biggest hit of Jones' career and one he very nearly did not record because he thought it was "too damn sad". Like Thorne, I like the dark stuff and the cheesy stuff and with the strings and the voiceover, there is certainly an argument for this being heavy on the fromage. But it makes me cry. End of story.
So, now you know. I'm a big soft girl.